How To Audit Your Own Website – Part 2!
Here at Oak City Technology, we are commonly asked to perform website audits for companies who want to see where their website stands against the test of time. In general, audits should be done yearly for businesses that rely on their website. Here is part 2 of a free checklist that we follow for our own in house audits! If you haven't read part 1 yet you can find that here.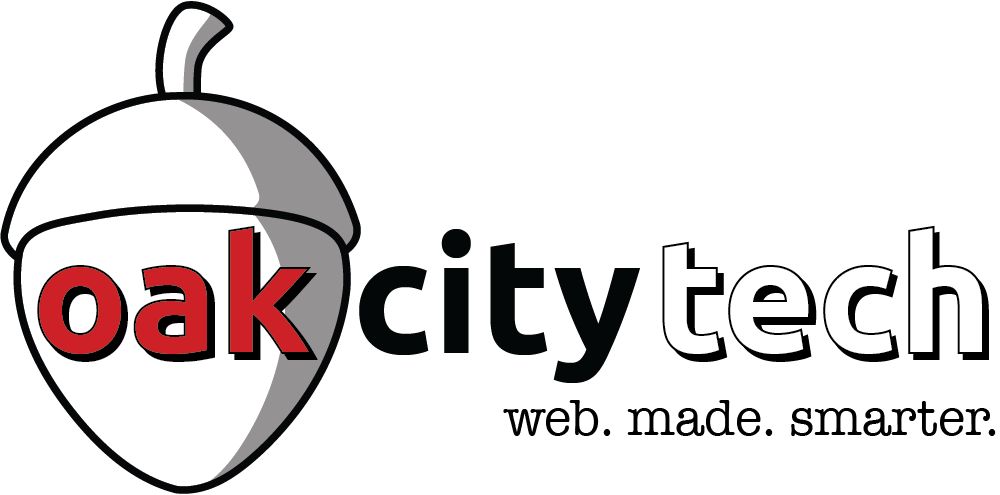 Responsive Design: Responsive Design is the act of your website scaling to whatever size screen you are on. Whether you are projection to an audience or on your phone, the website scales to a perfect size in relation to the screen. Making for a truly flawless transition. Responsive design is actually what Google recommends all websites be built in today. Test Responsive Design here!
Accelerated Mobile Pages (AMP): If you are unfamiliar, AMP is a new open source initiative that strives to turn all web content into inherently mobile optimized pages for quick loading and easy reading on all devices. This is the direction that everything is moving, to smaller faster web pages for a better mobile experience. Learn more about AMP here!
Link Profile: There are 2 types of links, internal and external. Both are important and both should be given time and attention if SEO is a goal of your website. By linking to something, you are telling Google and a user that this information is both related and important. Learn more about links and how to use them here!
Portfolio: If you are a business that has any sort of visual aesthetic or component, like painters, builders, creative agency or any type of product based company you need to have a portfolio. People need to be able to visualize what you are capable of. Keep them upto date and cycle out examples.
Outdated Content: Do you still have a page for a 2015 Yearly Event Calendar, or your 2013 5k For Charity Registration Page? Take it down. Google wants to see that you are keeping a clean and healthy site that is updated regularly. Websites that become static and outdated are easy to notice, keep it fresh!
XML Sitemap: An easy way to make sure that search engines can find all of the pages on your website is to create and submit an XML sitemap to Google, Bing, Yahoo, and other search engines. You should be able to find a plugin for your CMS which automates this process for you. They are also imperative for SEO.
Page Placement:A good CTA is seen by a user in the first few seconds of a visit. This enables a user to freely browse the site and learn more about your company without having any questions of what you want them to do. Whether it's collecting an email, calling you about services or downloading your E-Book a clear concise CTA can help with you lead generation.
Analytics: Do you have Google analytics installed? If so, how often do you check it? Do you do A/B testing for CTA locations? Google analytics can provide a wealth of knowledge and direction if you know what you are looking for. Spend time weekly in analytics, or if you do not have it deployed and active on your website, invest in data!
Social Sharing: Make sure that all of your pages have easy social sharing buttons or links. Social media is an incredibly valuable tool for any business and it should be given at least part of your marketing attention. Different social media platforms are better for certain industries, which one do you think your customer demographic uses most? Learn more about how social media affects SEO here!
Google My Business: Google My Business pages are a crucial part in how Google populates its search results. Every business NEEDS one of these, they are free and easy to setup. They basically give Google and it's search users a snapshot of easily re-callable answers to the basics of your business like location, hours, or phone number. Learn more about how Google My Business is tied to SEO here!
Activity Level: How active are you on your social media accounts? Do you have a monthly strategy for marketing, promotions or customer interactivity? Making sure that you reply to questions or concerns is highly recommended in today's online society. Just generally being active on your social media account is good for any business.
Google Reviews: How often do you actively ask your users or customers for reviews? If you have a good reputation with the community you should always be collecting Google Reviews. Online reviews are how a user who has no experience with you or our company/product determines your perceived trust. If they perceive through your reviews that you are a trustworthy company who cares about their services, you stand a much higher likelihood of getting that person's business. Oh and Google Reviews are also heavily favored in SEO rankings on a local level. Learn more about Google Reviews and SEO here!
Why Choose

Oak City Technology

At Oak City Technology we specialize in building these lead generating websites, that draw in the users who are looking for you and convert them to leads, through a simple user experience and answering the users' basic questions. We pride ourselves in generating business for our clients and making sure you stand out against your local competition. Contact us today to get started generating leads and clients for your firm's website!
We can still help you attract new business while working to grow revenue from existing clients and strategic partnerships. Get actionable advice & information right in your inbox from industry experts and professionals. 
Google Creative Certified

Google Analytics Certified


Follow our story

WHERE WE ARE
Oak City Technology
800 Park Offices Drive #3202
Durham, NC 27709

GET IN TOUCH